Auto Repair La Verne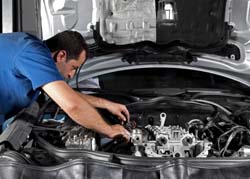 If you need auto repair in La Verne CA then you're in luck. Maybe not the best of luck because you're in need of auto repair, but things are looking up because Certified Automotive Specialists is the Go-to auto repair shop in the area. In fact, we're one of the top ranked car shops in the country and been awarded AAA's Quality Award, their top honor. Bring in your motorized baby and our car maintenance experts will have it purring like a killer kitten in no time.
For almost forty years (we've been around a while), our family-owned company has been servicing cars for the residents of the greater Glendora area. Over the decades, we have continued to grow, educate, and improve our skills. As a result, we have been awarded Motor Age Magazine's Top Ten Auto Repair Shops in America for five years in a row! That recognition reminds us that we're doing things right and it motivates us to continue offering the very best car maintenance around. Our business plan is simple: we treat your car as if it was our own, you drive away happy, and you remember us the next time around. That model has served us well over the years. There's a distinct level of pride found in our work. We don't know how to operate any other way.
Certified Automotive Specialists exemplify what auto repair is in La Verne CA. That's not just our ego talking (okay, maybe a little bit). We are passionate about your vehicles. We enjoy the work that goes into keeping them at their tip-top performance. Stop by our shop for an oil change, brake repair, suspension or any other auto service. Let us help you keep your ride in peak condition — your car will thank you.